Retracing the Steps of Justin Bieber and Selena Gomez's Big Breakup
Noel Vasquez/Getty Images
I don't know what to say. I don't know what's going on in my life. To even assess that, it doesn't make sense 'cause I have not made any comment. — Justin Bieber
In the modern age we are all freelance private detectives. In a week that saw David Petraeus step down as director of the CIA over e-mail hacking related to an affair with his biographer Paula Broadwell, an explosive scandal involving a younger demographic was also making its way across IP networks worldwide: the breakup of Justin Bieber and his girlfriend, Selena Gomez. The aftermath of the Bieber-Gomez split played out on Twitter over the weekend. Neither party released an official statement, but both gave covert messages through their public platforms.
Bieber and Gomez got together after 18-year-old Selena stopped seeing her friend Justin as a little brother type and started viewing him as a 16-year-old man-boy. While Bieber is a bona fide puberty-exploiting musical phenomenon, Gomez is a talented comedic actress whose child stardom never hit any derailing coke bumps. Together they formed a bubblegum power couple par excellence. Gomez had already come off a very public love triangle with Nick Jonas and Miley Cyrus. It seems strange for Gomez to have her young personal life documented so intensively and permanently. But putting up information (no matter how accurate) for strangers to lay claim to is also something that most people now voluntarily do on the Internet.
After two years of dating, Bieber and Gomez reportedly recently ended their relationship. Both have been passive-aggressively tweeting about it since then. Gomez quoted her friend Taylor Swift's ambivalent single-girl anthem "22" on Halloween, and Bieber posted a brooding picture of himself to Instagram with the anagram caption "*Lingse*" to mysterious effect. Bieber fans were split between supporting "Jelena" through this difficult time and blaming Selena for the breakup while indulging the fantasy that a single Bieber means they now stand a chance.
Bieber performed at the Victoria's Secret Culturally Insensitive Lingerie Spectacular and was called out by Page Six for hitting on all the models ("Angels"), despite being three apples tall. Barbara Palvin, a 19-year-old Hungarian model who walked the show's runway and has professed her fandom for Justin before, posted a shot of herself with Bieber on Twitter. The next day she was spotted at The Lion King with Justin, because that is what rich jet-setting teenagers do on dates. They go see Broadway franchise musicals that have been open for a decade.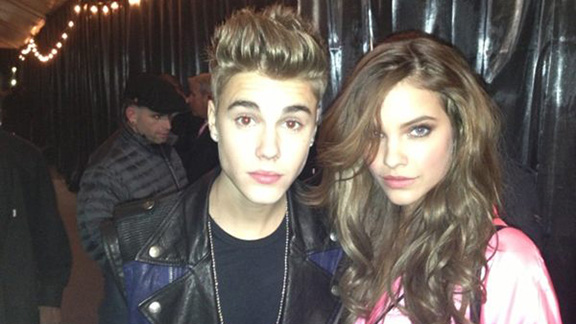 Young Money rapper Lil Twist posted a picture of himself with Bieber in what appears to be a hotel room with Palvin visible in the background, and Gomez reblogged it with RPG-style ellipses ("……"), seemingly commenting on how fast Justin had moved on. Palvin denied any wrongdoing, and tweeted "please calm down. there is nothing going on w him. i met him and did a pic w him. wouldnt u do the same? : ) #friendship," which you should be sure to read in your head in a Hungarian accent. Palvin also already has a boyfriend, whose name is Kristof Somfai.
In turn, Selena posted a picture of herself with the young British actor Gregg Sulkin, who plays her love interest in the Wizards of Waverly Place movie she is filming and alerted People to go ahead and run the Bieber-Gomez breakup story. The timing is awkward because in Justin's interview for Oprah's Next Chapter, which airs in late November, he praises Selena and talks about how he makes sure to treat her like an equal in the relationship. "I don't ever want her to feel like I'm ashamed of her," he tells Winfrey. Justin Bieber's image rides on the idea that is he not only a good boyfriend, but the greatest boyfriend in the entire universe. But he is also an 18-year-old multimillionaire with a crazy nonstop touring schedule and access to models.
On Saturday night in Boston, Justin Bieber performed "Cry Me a River," Justin Timberlake's definitive passive-aggressive breakup song about his ex-girlfriend Britney Spears that implied she had cheated on him. When Timberlake released "Cry Me a River" as his second single, it cemented him as a solo artist while stoking public curiosity for details of what actually had gone down in the bedroom of the world's most famous fake virgin. Britney responded with the video for "Everytime," which had Stephen Dorff portraying a hot-tempered, self-centered stand-in for Timberlake who pushes paparazzi, yells at Britney, and sulks in his limo.
Bieber and Gomez are digital natives who have grown up using social media technology as both public personas and private people. Bieber's fame even came about through the Internet, when he was discovered by manager Scooter Braun on YouTube (which has only been operational since 2005 even though it now feels like we've had it forever). Despite their celebrity, they abuse technology the same way anyone else might. Breakup wreckage accumulates on social networks; photos are untagged, relationship statuses change, tweets become cryptic.
And fame and money aside, nothing can possibly insulate Justin Bieber from experiencing the pain of moving on from his first real relationship. Sure, he may have a lot of soft places to fall, but that won't stop him from feeling bad at times. Rumor has it he's already decided he wants to attempt a reconciliation, and that Selena flew into New York to meet up with him and discuss the possibility. It could be a cynical PR move meant to keep the couple together until his Thanksgiving special airs, but somehow I doubt it. I'm guessing he just misses his girlfriend.
Filed Under: Gossip, Justin Bieber, Selena Gomez