Poster Decoder: The Secret Messages in the One-Sheets for Hugo, Dragon Tattoo, and Mission Impossible 4
Each week, marketers release new movie posters, many for films whose releases are still months away. But for those who know where to look, one-sheets can reveal studios' hopes and insecurities about their products. In this space, we will attempt to decode the hidden meanings of the week's new posters.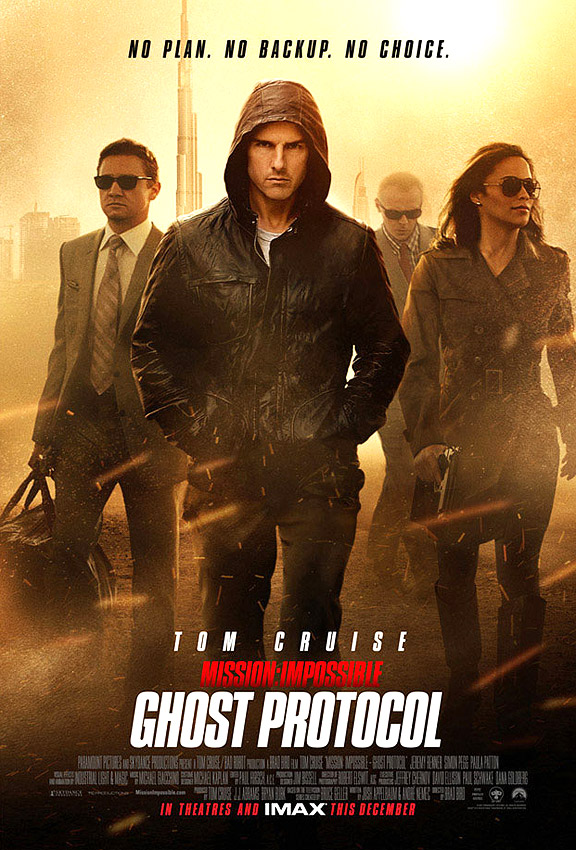 Movie: Mission Impossible: Ghost Protocol
What the art says: You better lose yourself in the music. The moment, you own it, you better never let it go. Wait! Wrong guy! That's actually Tom Cruise walking through a dust storm with a hoodie on. But where are his glasses? Everyone else clearly recognizes that dust storms could be harmful to their eyes and has therefore worn glasses. Not Tom. It's actually a little odd to see a "MI" poster with people alongside Cruise (see: 1, 2, and 3). Is it a tacit acknowledgement that, at 49, Cruise's star is fading, or a convoluted attempt to make him look like he's actually taller than Jeremy Renner?
What the text says: Weird choice here, making the film's subtitle ("Ghost Protocol") larger than the name of the more recognizable name of the franchise ("Mission: Impossible"). What's not weird, though, is that Cruise's is the only name on the poster. Of course, even if the other three actors did have their names on the poster, most moviegoers probably wouldn't recognize them.
Tagline: "No Plan. No Backup. No Choice." Does the tagline refer to the film's plot or Cruise's decision to wear the hoodie? Also, the protagonist having "no choice" is a tagline cliché that goes all the way back to Lionheart.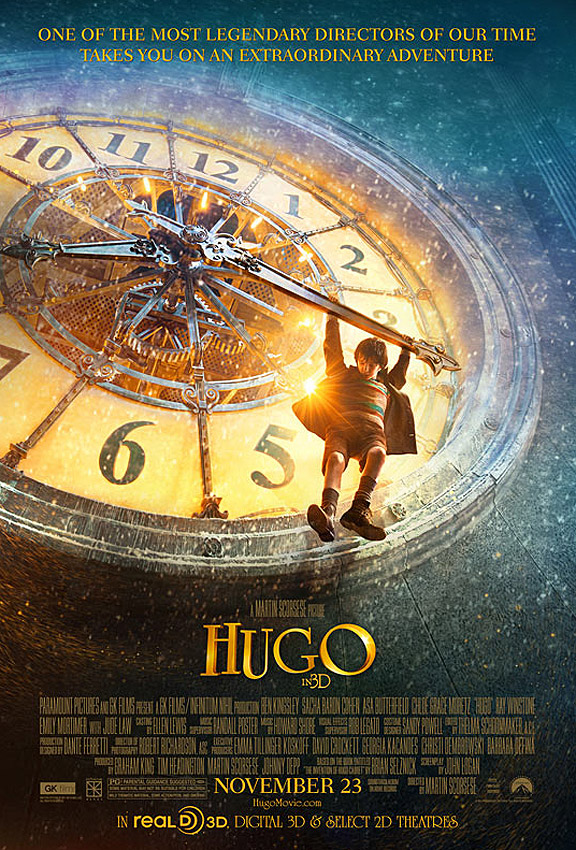 Movie:
Hugo
What the art says: This is a kid-friendly remake of Back to the Future in which Doc Brown is played by a shorts-and-boots-wearing kid. At least that's what it looks like. Turns out it's about a kid in 1930s Paris who lives in the walls of a train station. The poster art here is strikingly similar to another poster for a movie that just happens to be directed by Robert Zemeckis.
What the text says: The art is for the kids and the text is for the parents. No one under the age of 10 cares about "one of the most legendary directors of our time." Funny thing, though: while the poster touts it's "legendary" director, it goes to some pretty great lengths to keep you from knowing who that is.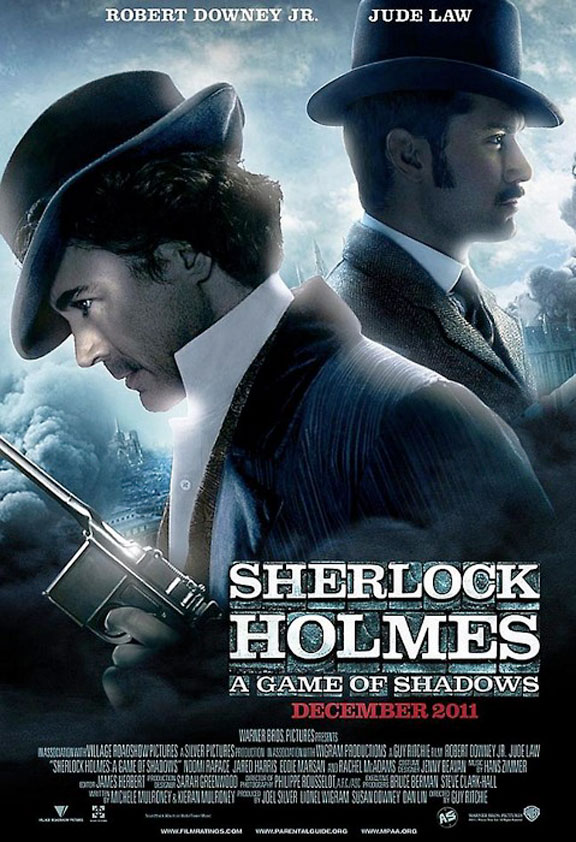 Movie: Sherlock Holmes: A Game of Shadows
What the art says: These two behatted men are in love. This movie can only end with them humping in a tent.
What the text says: Warner Brothers is trying to mobilize the elderly. How else to explain the typewriter-style font? Also, did Guy Ritchie direct this? He doesn't even get the barely-there billing that Scorcese does above.
Tagline: The lack of a tagline sends a clear message: This is a sequel to a movie that made over $500 million and WB doesn't need to waste their time on a tagline.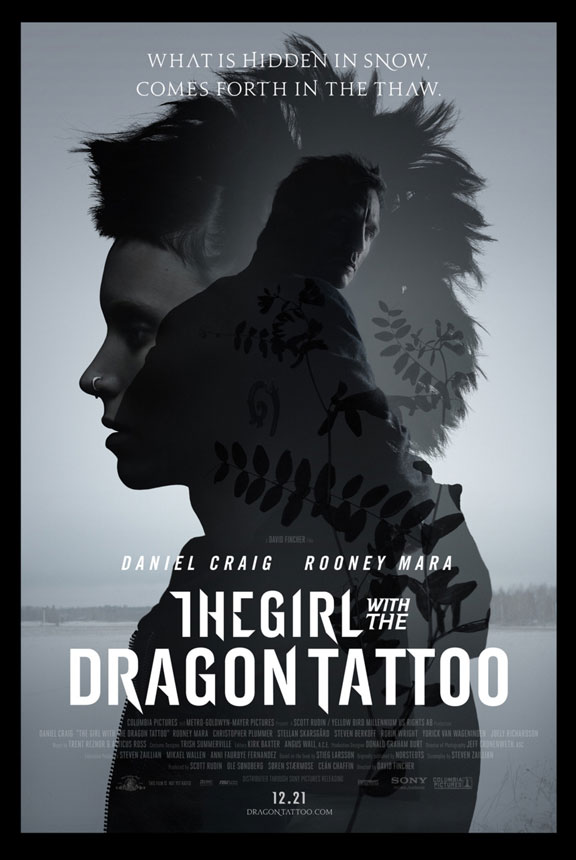 Movie: The Girl With the Dragon Tattoo
What the art says: Noiry! Everything's dark, the scenery is cold, and there's a branch with some leaves on it in the middle of everything. Why? Maybe you need to have read the book. But this poster is really about mood and this image definitely turns the dial to dreary. But why show Daniel Craig's back? That thing is box-office poison.
What the text says: Rooney Mara plays the title character, but she's not famous enough for top billing, which Craig gets it instead. But where is David Fincher's name?
Tagline: "What's hidden in the snow, comes forth in the thaw." Mysterious and pretty original. Still, makes us think of dog poop.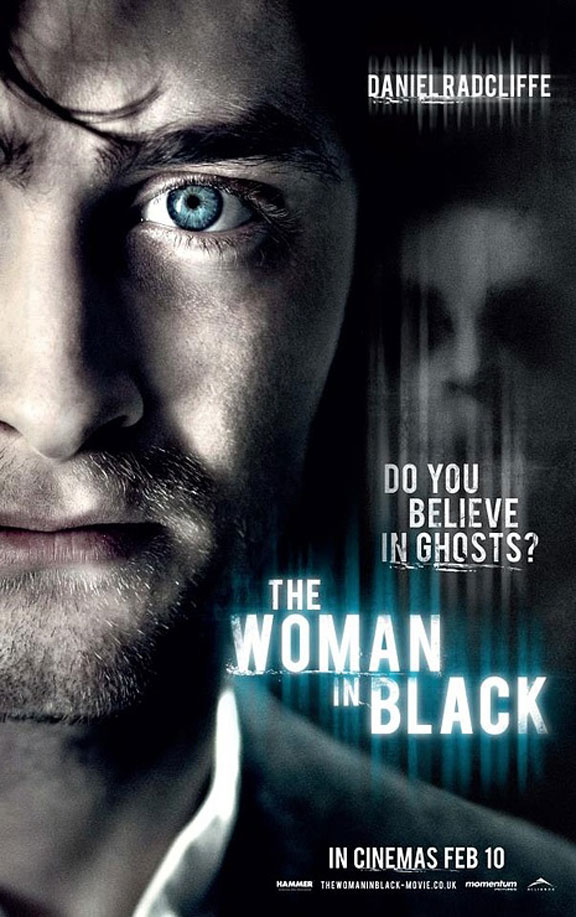 Movie: The Woman in Black
What the art says: First, it says Daniel Radcliffe is wearing blue contacts. Then it says, "Boo!" Because damn, this thing is creepy. The smoky ghost face, Radcliffe's dead stare, that sorry excuse for a beard. All scary! To our eyes, the poster it most closely resembles is this one. Does this mean we're looking at the Avatar of ghost movies? It's February 10 release date would indicate no.
What the text says: Spooky. The ghosts aren't the only ghosts in this movie. The words are ghosts too. Look at those scary ghost shadows. Radcliffe gets top (and only) billing (largely because no one else with a name is in this thing). This is what they call a star vehicle.
Tagline: "Do you believe in ghosts?" We get it. This movie has ghosts. What it doesn't have is someone who was willing to spend more than five minutes coming up with a tagline.
---
Previously: Poster Decoder: Deciphering the Hidden Meanings of the One-Sheets for Tintin, J. Edgar, and New Year's Eve
Filed Under: Hugo, Mission Impossible: Ghost Protocol, Movies, Poster Decoder, Posters, The Girl With The Dragon Tattoo