A massive EF5 tornado struck Moore, Oklahoma, killing 23 people and destroying more than 1,100 homes on May 20 last year. Reporters on site likened the aftermath to a "war zone" while their cameras trained upon the battered suburban landscape. The images horrified viewers nationwide. In the following days, Oklahoma City Thunder players toured the most devastated areas, offering support and helping in any way they could. They walked amid ravaged subdivisions, handing out water and delivering food. It was surreal and heartbreaking; for most of the team, this was far and away the worst thing they'd ever seen.
Serge Ibaka was among the players to visit Moore. A few YouTube clips show him giving hugs, autographing sneakers, and asking people about their families. Ibaka is accustomed to this kind of devastation, albeit a more man-made version; he grew up in a literal war zone in Brazzaville, the capital of the Republic of Congo.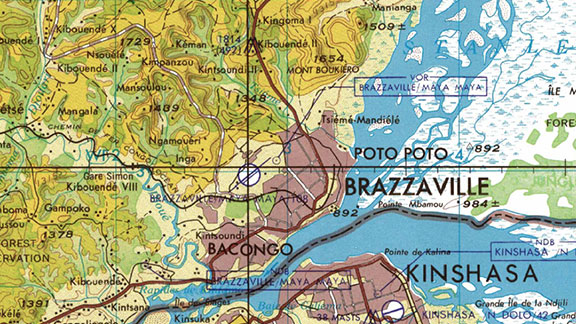 His hometown is named after Pierre Savorgnan de Brazza, a French explorer credited with pioneering river trips down the Congo River, priming the region for French colonialism. Brazzaville is one of the few African cities to keep its colonial moniker, preserving the legacy of its "peaceful conqueror." Ibaka spoke French in elementary school, but these days the European influence in the Congo is slowly receding. The Chinese are arriving rapidly and with an eagerness similar to that of previous visitors; they seem more interested in the region's natural resources than in its citizenry. The earth beneath Ibaka's homeland contains billions of dollars' worth of untapped crude oil and mineral wealth; above ground millions of men, women, and children struggle just to live safe and healthy lives.
The upside-down realities of life in the Congo are reflected in the local infrastructure: The best roads lead to the mines, ports, and refineries, while most foreign investments support things like offshore oil drilling, port management, pipelines, and timber harvests. Water treatment facilities, vaccination centers, hospitals, schools, and frivolous accoutrements like public basketball courts receive far less support.
During Ibaka's childhood in Brazzaville, he witnessed violence and political upheaval. The War of 5 June broke out on June 5, 1997, when Ibaka was just 7 years old. Most NBA fans in the U.S. had just witnessed Michael Jordan go for 38 points, 13 rebounds, and nine assists to lead the Chicago Bulls over the Utah Jazz in Game 2 of the NBA Finals. That meant little in Brazzaville; the war destroyed much of the city as militias and government forces battled on the streets. At one point, helicopters and an Angolan MiG bombed the city.
Just before Ibaka turned 9, the Second Congo War, the bloodiest global conflict since World War II, began. His family fled to Ouesso, a tiny rain forest town in the far north of the country. Ibaka spent more than three years there, with only periodic access to electricity and clean water.
♦♦♦
Serge Ibaka was born in September 1989 to a mother named Amadou and a father named Desire. Both his parents played basketball, and it was his dad who helped build the player we now know, taking his son to games when he was young and encouraging him to work hard despite the madness going on around him.
The "9" sewn onto the front and back of Ibaka's Thunder jersey is a tribute to Desire, the guiding force who enabled him to become the first player from the Republic of Congo to ever make the NBA. There's no easy route to the world's best basketball league, but some roads are harder than others — that conventional AAU-Calipari highway sure doesn't run through Brazzaville. That a child born into civil war is an NBA player is impressive; that he's an All-Star is arguably the most inspiring story in the league.
Ibaka's big break came in September 2006, at a youth tournament in Durban, South Africa. The long and lean Ibaka won MVP, grabbing the attention of European scouts. By March 2007 he was in Spain, where he played with club team L'Hospitalet. The culture was shockingly different from what he was accustomed to in Africa, but he adapted quickly, learning fluent Spanish in just a few months.
After less than two years of dominating FIBA courts, the Seattle SuperSonics drafted Ibaka with the 24th pick in the first round of the 2008 NBA draft, a pick that ESPN's Chad Ford predicted; in retrospect, Ford's analysis was spot-on: "Expect Seattle GM Sam Presti to use a trick or two from his days in San Antonio and look internationally with his second pick. Serge Ibaka has the talent to be a potential lottery pick someday, but he's still very raw. The Sonics can leave him over in Spain and reap the benefits down the road."
Six weeks after his 20th birthday, Ibaka made his NBA debut, on October 30, 2009, at the Palace of Auburn Hills; he logged just under three minutes and grabbed one defensive rebound.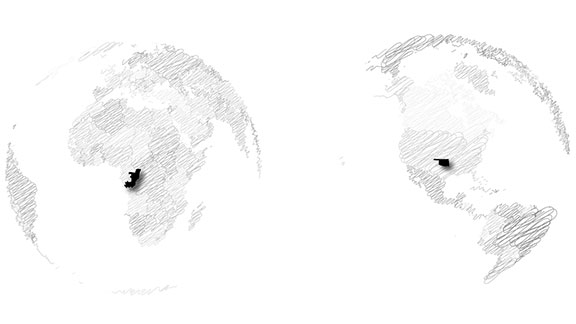 ♦♦♦
"Player development" is crucial to NBA success. Progressive franchises nurture young players, systematically engineering improvement in their games; bad franchises do not. Theoretically, there are 30 talent incubators around the league, but the truth is far from that. The Spurs grabbed Danny Green from Cleveland's scrap heap and turned him into one of the best spot-up shooters on the planet. Meanwhile, perennially bad teams sit back and watch as lottery pick after lottery pick simply doesn't "pan out."
When most NBA fans think of Serge Ibaka, they think about a freakishly athletic shot-blocking defender. That description might be accurate, but it is also incomplete. He's also one of the league's most quickly improving players, incorrectly typecast and largely misunderstood. Ibaka has led the league in blocked shots each of the last two seasons, but only the biggest nerds are also aware of the following: During the 2012-13 season, 59 NBA players attempted at least 300 midrange shots. None made a higher percentage than Serge Ibaka.
Ibaka knocked down 49.4 percent of his midrange shots, edging out Chris Paul for the top spot in the league. Other prominent young bigs in the NBA aren't even close: Josh Smith made only 29 percent, DeMarcus Cousins made 34 percent, and Blake Griffin converted only 37 percent. People around the league fail to realize just how gifted a jump shooter Ibaka has become.
"I think that's great for me, I can surprise them," he says. "And it motivates me to become even better."
I visited Oklahoma City earlier this season to ask Ibaka and the Thunder about the marked improvements in his game, particularly his midrange shooting. Coach Scott Brooks summed it up best.
"He's improved his offense every year," Brooks says. "I think he's one of the best midrange shooters in the league, and I probably shouldn't say that because I don't want the rest of the league to know — but the numbers back it up. When we get him open shots, we know that there's a better than 50 percent chance that the ball is going to go in."
Ibaka has spent countless hours in offseason gyms working on his game, a fact not lost on Brooks, who says Ibaka is "as diligent a worker as I've ever been around." That's saying something, considering that Brooks has spent five years coaching Kevin Durant. The hard work is paying off. Two years ago, Ibaka shot a respectable 41 percent in midrange. He increased that to over 49 percent last season. His efficiency near the basket also improved by 6 percent, which is even more impressive considering that in the absence of James Harden, Ibaka took many more shots last season; he averaged almost 10 attempts per game, easily a career high. Serge Ibaka is responding to rapidly increasing scoring burdens by becoming a much more efficient offensive player.
Maybe people have misbranded Ibaka's game because we don't typically associate shot-blocking length with potent jump shooting. We don't expect players like Larry Sanders, Roy Hibbert, or Dikembe Mutombo to have adequate jump shots, let alone very good ones. In a way, Ibaka has more in common with Steph Curry or Tim Hardaway Jr.; he's a second-generation athlete whose parents worked hard to build a more complete player, not just a one-dimensional cog.
On the offensive end, the ability to knock down long jumpers is one of the things that separate good NBA bigs from great NBA bigs. All-world forwards like Dirk Nowitzki, Kevin Garnett, and Chris Bosh can nail 18-footers at high rates. As a result, opposing defenders — often rim protectors — must stray from the paint, opening vital passageways for attacking teammates.
Oklahoma City has a pair of the best attacking scorers in the world. Kevin Durant or Russell Westbrook would probably be great playing one-on-five, but Ibaka's ability to space the floor makes their jobs easier. Westbrook told me, "I think Serge's development has been great. [His jump shot] is a really good weapon for our offense and really helps Kevin and I out a lot. At that position there are only a few guys that can shoot that well, so that is a great thing for us to have."
Durant concurs. "Serge continues to get better every year," he says, "and it's because he puts in the work each and every day. His midrange game helps our offense a lot."
Ibaka's ability to make these shots forces Thunder opponents into a pick-your-poison defensive quandary.
"It's really good for my teammates because it opens up Kevin or Russ," Ibaka says. "My defender needs to choose to help or stay on me. If he helps, I will make that shot. If he stays, Kevin or Russ is going to score a basket or get an and-1, so it's good for both myself and my teammates."
Ibaka's shot chart from last season reveals exactly where he has developed that excellent touch. He's particularly active from areas in front of the rim and along the baselines. He told me that baseline jumper is his favorite shot, which makes sense, because he has become one of the best shooters in the league from that exact area.
Just like LeBron James was not born with a post game and a 40 percent 3-point shot, Ibaka didn't inherit this midrange feel. Back in his rookie season, Ibaka hardly ever shot the ball. And when he did, it was usually close to the basket. In fact, in 73 games during his rookie year, he made just 29 field goals beyond 16 feet. Last season he made 153. In just a few years, Ibaka evolved from one of those prototypically "unpolished" shot blockers into a unique blend of defensive force and offensive skill. His yearly shot charts plot a remarkable increase in volume, particularly away from the basket.
Last season, for the first time in his career, a majority of Ibaka's shots came from outside the paint. His greatest improvement has come along the right baseline; during the 2010-11 and 2011-12 seasons, Ibaka shot a measly 37 percent from this area, but last season, he made a staggering 58 percent of his shots in this same zone. It's no wonder he calls that baseline jumper his "favorite shot" — he was the best shooter in the league from the right baseline, and the third best along the left baseline.
But, despite developing a potent catch-and-shoot arsenal, Ibaka is nowhere near content with the state of his game. You can see in his shot charts where he's looking to develop other parts of his game. His coaches and teammates trust his shot so much now that they will continue to try to get him more shots. He told me he expects that his defenders will more aggressively contest the midrange shot this season, so he has worked hard on pump fakes, face-up moves, and dribble drives — not to mention a post game. But the biggest change, according to both Brooks and Ibaka, might just be a new corner 3.
If Ibaka can shoot over 50 percent from the midrange baseline, surely he can hit at least 40 from the corners. He shot a respectable 37 percent from there last season, but he tallied only 52 total attempts, a number everybody around the team expects will surge.1
Ibaka and the Thunder staff are acutely aware of his development. It's evident that there are a plan, milestones, and buy-in on both sides. While this may not seem unusual, you don't have to look too hard around the league to find equally talented players stagnating, for whatever reasons. It's not hard to find guys who never "made the leap."
♦♦♦
This kind of career trajectory is more rare than it should be in the NBA. Maybe it's because of where he's from and what he's seen, but Ibaka will likely never stagnate in his development. He knows the difference between genuine hardship and hard work. When I asked him why grinding in offseason gyms comes so easily for him, he looked at me and calmly said, "I know it won't kill me." That's a heavy phrase, but in a world where athletes regularly throw around aphorisms like "in the trenches" or "we battled," it's loaded with uncommon perspective. For a kid from Brazzaville, it's realistic.
Ibaka began his fifth season in Salt Lake City, in one of the impossibly faraway gyms that hosted those 1997 NBA Finals when Jordan ruled the NBA and Brazzaville was a war zone. He's on pace to set career marks in minutes, points, and rebounds. Although it may be easy to brand Ibaka the best young African player in the league, that sells him short. Along with guys like Paul George, Damian Lillard, and Kawhi Leonard, he's also one of the league's best examples of player development and what can happen when a talented, hardworking kid is put into a nurturing environment in the right kind of organization.
The rapid globalization of the NBA has been remarkable for many reasons: On one level, international players like Ibaka demonstrate the value of a vaster global talent pool by heightening the overall level of play in the world's premier basketball league. On another, it bridges the gap between places like Brazzaville and Moore, Oklahoma; it mimics the mounting connectedness of humanity. Stories like Ibaka's provide proof of something more valuable than an NBA contract. And "making the leap" is more than just another locker-room aphorism. It's a way to live.