The NBA's Halloween deadline for fourth-year players to receive contract extensions passed without deals for at least five promising guys: Gordon Hayward, Eric Bledsoe, Greg Monroe, Evan Turner, and Avery Bradley. Their teams, for particular reasons, did not deem them worthy of the big money other clubs showered upon DeMarcus Cousins, John Wall, Paul George, Derrick Favors, and LARRY SANDERS!
The saps without extensions will all be restricted free agents this summer, meaning their incumbent teams — Utah, Phoenix, Detroit, Philly, and Boston, respectively (at least for now) — will be able to match any rival offer for their services. Restricted free agency is a tricky animal; Larry Coon's analysis at ESPN.com has shown restricted free agents to be among the league's most overpaid player types, in terms of bang-for-the-buck production. Rival teams who want to lure them away have to submit salary figures onerous enough to dissuade the incumbent team from matching — contracts that often include extra goodies like trade kickers and accelerated payment schedules.
The threat of such a poisonous offer can motivate teams to hammer out an extension ahead of time, before predators have a chance to strike. Agree to such an extension before a breakout fourth season, and you've got a bargain in the style of contracts now tied to Stephen Curry, Mike Conley, Rajon Rondo, Ty Lawson, Al Horford, and others. That kind of discount cost certainty is important for teams projected to butt up against the luxury tax. The Grizzlies already have more than $63 million in committed salary for 2014-15;1 their choice to ink Quincy Pondexter to a four-year, $14 million extension is a hedge against Pondexter playing better than expected this season and drawing a bloated offer sheet that would take Memphis toward $70 million even before dealing with Ed Davis and filling the rest of its roster. Last season's Curry extension accomplished something similar for the Warriors, who have since negotiated deals with Andre Iguodala and Andrew Bogut that call for declining annual salaries over the life of each contract.
The debate over extending a player or watching him enter restricted free agency has always been about these kinds of calculated risks. Every franchise handles the decision in its own way, and each player brings a particular set of circumstances — an agent who demands nothing short of the max, the player's total self-confidence that he's about to become an All-Star, or a need for long-term security that trumps said confidence.
But the circumstances of that debate are much different now, under the league's (still kind of) new restrictive collective bargaining agreement. The league is brimming with cap room every summer now. Teams have spent more carefully, and more frugally, since the lockout. When free agency arrives in July, somewhere in the ballpark of half the league's teams can work their way to at least $10 million in cap space. And the Warriors reminded us just last summer that a capped-out team can suddenly morph into a ravenous space-hoarding beast if it has the right assets on hand.2 As many as 15 teams could work their way to at least $10 million in cap space next summer, assuming the cap level jumps (as the league projects) from about $58.5 million this season to $62.5 million next season. A few of those 15 teams won't actually sniff that kind of cap room, because they'd need about three or four different variables to flip the right way for that sort of space to open up. But most of them can get there without such gymnastics, and you never know who might use a trade to join the cap room bonanza.
The league wasn't always like this, by the way. The summer of 2010, when a pile of teams cleared the decks for LeBron's free-agency class, was something of an anomaly at the time. Now every summer is like 2010.
In other words: There will be suitors lurking everywhere for the Haywards and Monroes of the league. Team executives love to joke that "it only takes one asshole"3 to force a team into overpaying its own restricted free agent. The league would now seem to be filled with more potential assholes than a bar in New York's financial district at 6 p.m.; wouldn't it make sense to lock up your guys before that crowd can act?
And yet only six of the 30 first-round picks from the 2010 draft received extensions before Halloween. That's just about average over the last 15 years, a stretch that spans several minor and major revisions to the league's collective bargaining deal. Seven eligible players struck extensions a year ago, and about 7.5 on average have done so each season since 1995, per publicly available data. There have been boom and bust years for extensions — 29 combined for the legendary draft classes of 1996 and 2003, only four for the sad 2000 class — but the overall rate of early extensions hasn't really changed.
Teams are generally acting rationally in allowing guys to hit restricted free agency. They should approach extension talks this way: Do we think the deal on the table will end up as a discount, undermarket deal? If "yes," then sign it. If "no," then let the guy hit the market without much reservation. A clear max-level player is an exception; teams should immediately seek to lock up those guys for as long as possible.
The collective bargaining agreement might have engineered more suitors with cap room to burn, but it also limited the damage that the "one asshole" can do in chasing restricted free agents. Contracts are shorter as a whole now. A team trying to poach a restricted free agent can offer only up to a four-year contract. The old CBA allowed for five-year offers, and suitors could even try to coax an incumbent team into a sign-and-trade carrying a six-year deal.
A six-year deal is an endless albatross. A four-year deal? You can live with that. The end date is visible in the distance almost upon signing.
Take the case of Hayward. He's a very nice player — a jack-of-all-trades/master-of-none type who could fit on any team. The Bucks, Mavs, Cavaliers (depending on LeBron), Pistons, and Suns are among teams with big potential cap room and an obvious need on the wing. The Lakers are slated to enter the offseason with a bundle of room and needs just about everywhere.
That's a lot of potential suitors! But the largest offer sheet they could dangle would be a four-year deal with a maximum salary equal to 25 percent of the cap level4 — something like $14 million or $15 million per season, with an annual raise of 4.5 percent. That's significantly smaller than the $20 million–plus max-level deals for which longer-tenured veterans are eligible.
If Hayward jumps a level this season, the Jazz might well value him at something like $12 million per year. A rival team drooling over that jump in play might hit Hayward with the dreaded max offer sheet, but is Utah really going to let Hayward walk away over a $2 million valuation gap? The Jazz are about as flexible as it gets, flush with cap space even after extending Favors. They can afford to swallow hard and overpay.
But what if Hayward plateaus? Wing players are everywhere. They can find the market cooler than expected, precisely because they are somewhat fungible unless they bring one or two truly elite skills. Hayward, to this point, does not. If his development stalls out, the Jazz might be able to snag him at a much lower price than Hayward's agent likely demanded during recent extension talks. The max-level deal the Pacers gave Paul George, selected one spot after Hayward in the 2010 draft, hovered over the Hayward extension talks. The two players have roughly equivalent per-minute statistics, and Hayward has been the superior 3-point shooter. Utah fans love to make the comparison, whining that the world has overlooked Hayward while deifying George, and Hayward's agent would have been dumb not to trot out the same stats — and to point out that George has worked with a much better veteran surrounding cast.
But the argument doesn't quite pass muster, mostly because the per-minute numbers ignore a thing called "defense" that comprises half of every NBA game. Hayward has been uneven as a defender, both one-on-one and within Utah's team rotations. George is already among the dozen or so best defenders in the game. His wingspan is almost four inches longer than Hayward's — a big difference — and Hayward this season must prove he can defend bigger wings consistently.
George has to prove no such thing. George has struggled at times as a lead ball handler, but he has shown major improvements in the early going this season, and he's already a bigger threat than Hayward from the post and the elbows.
Hayward isn't there yet, and he's the kind of player who can get squeezed in free agency. Of the 19 guys who have received extensions in the last three years, all but five have been either big guys or point guards. That leaves five wing players — a cheapie (Pondexter), a budding star (George), a clear franchise guy (James Harden), DeMar DeRozan, and Danilo Gallinari. The Jazz might be betting Hayward's value comes in closer to the DeRozan/Gallinari/Jeff Green range — between $9 million and $11 million per season. If so, they made the right call letting Hayward walk in free agency, assuming he demanded more than that. The same is true of Detroit with Monroe, whose agent, David Falk, made it no secret he wants Monroe's next deal to be a max-level contract. Ditto for Phoenix with Eric Bledsoe, who reportedly targeted a $10 million annual deal on the Lawson/Curry level despite never having started full-time.
(As an aside, Turner is an interesting case. The league assumes the Sixers want to trade Turner if his market heats up, and that assumption is probably correct. Might Turner's trade value have increased had Philly signed him to an extension, providing future cost certainty for any team interested in acquiring him this season? Trading a player in that situation is hard, since the CBA instituted a poison pill provision that applies specifically to fourth-year players who have agreed to an extension. But the CBA also broadened the rules about how much salary must go in and out in trades, at least for non-tax teams, making theoretical Turner deals a bit easier to construct. Food for thought.)
If Hayward plays up to a larger deal, the Jazz can happily sign it — either on their own or via matching an offer sheet.
They can also use the CBA to their advantage in other ways. Only Utah can offer Hayward an extra fifth year on his next contract.5 That extra year becomes proportionally more valuable as contracts across the league get shorter. Teams can use it as something of a hammer now. If the Jazz get wind another team is about to lavish Hayward with a four-year max offer, they can work on Hayward to sign a five-year deal carrying a lower annual salary — perhaps even a descending annual salary, so en vogue now for teams anticipating future commitments.
If the team is fine with the terms of the rival's four-year offer sheet, it can just match and celebrate shaving a year off the back end of the contract. This is essentially what happened with Roy Hibbert, who signed a four-year max-level deal with the Pacers after discussing an offer sheet with the Blazers under those exact terms. Going four years with Hibbert allowed Indiana to reserve its one-time-only five-year "designated player" extension for George.6
And the market for Hayward might not get that frothy. Rival teams stay away from restricted free agents, fearing they must overpay to trump matching rights. Nobody came after Nikola Pekovic this summer, and poor Gerald Henderson could barely draw a whiff of interest beyond Charlotte. Suitors also don't want to tie up their cap space for 72 hours with an outstanding offer sheet. Incumbent teams have those 72 hours to decide about matching, and the suitors are stuck waiting during that window as other potential fits sign left and right. The new CBA actually reduced that span from a week to three days, but teams are still loath to tie up their books this way.
That's one reason we see so many sign-and-trade transactions involving restricted free agents — Ryan Anderson, Tyreke Evans, etc. A suitor interested in such a player can avoid the offer sheet tie-up by going to that player's agent, floating a salary figure, and having the agent float that salary to the player's current team. If that team indicates it will match, the game's over; this is what Portland has experienced two years running, with Hibbert and Tiago Splitter. If the team would rather make a deal, well, it's time to talk sign-and-trade. Such moves also sew goodwill around the league, since nobody goes away empty-handed.
In other words: There's very little downside to letting the market play things out, unless you're a tax team vulnerable to some mega-offer, or carrying a second-round pick eligible for the so-called "Gilbert Arenas" offers with which Houston smacked the Knicks and Bulls across the face in signing Jeremy Lin and Omer Asik. It's one thing if you're getting a discount, or at least you think you are. But there was no pressing reason for Washington and Sacramento to sign Wall and Cousins to max-level extensions despite a limited track record of max-level worthiness.7
Check that: Different teams consider different reasons "pressing." The Wiz, chasing a playoff spot, were concerned about preserving team chemistry and keeping Wall's power agent, Dan Fegan, happy and calm.8 The Kings were concerned about how Cousins might act facing free agency, and about putting out a credible product as a new ownership assumes control and battles for a new arena.
But the system of rules in place did not push those teams into signing potentially premature max-level deals. If teams have any doubt, they should usually play it out.
10 Things I Like and Don't Like
1. Pierre the Pelican
Oh, Pellies. I've been onboard from day one of the name change. I'm pro-Pelican. It's a cool animal, a unique mascot, and one with true local resonance.
But this? This is not a pelican. This is some horror-show mash-up of a chicken and a clown, and it is downright terrifying. It looks like a mascot Dr. Frankenstein would assemble in a Saw-style basement dungeon out of parts from leftover dead mascots. For the sake of the children, please return to the drawing board.
2. Premature panic!
This is both the best and worst part of the season. Having the NBA back is nice, and it's fun to see how coaches use new rotation pieces. But sample sizes are too small to be of use, a bit of rationality that does not jibe well with a 24/7 media cycle that generates instant hand-wringing (or excitement) every other game. Is Luol Deng washed up? Are the Nets dead on arrival? Is Nate Wolters the next Steve Nash?
Settle down, everyone.
3. Anthony Davis's pick-and-roll dribbling
We tend to think of big men doing one of two things on the pick-and-roll: popping out for open jumpers, Kevin Garnett–style, or diving to the rim for lob dunks. But those are ideal outcomes, and a lot of pick-and-rolls unfold in such a way that the big man catches the ball on the move in an awkward in-between area. If he can't do much with the ball from there, the offense usually has to reset.
But the Brow has honed the off-the-bounce skills he flashed last season, and he's making something of those in-between plays:
4. The David Lee–Andre Iguodala partnership
Iguodala is a versatile, creative player, capable of improvising in all sorts of ways on both ends. Such cleverness spreads up and down Golden State's roster, and the presence of good passers at almost every position is an underrated reason these guys are the most watchable team in the league.
Take a look at this Lee-Iguodala dribble handoff:
Normally, the player in Iguodala's position would come up above Lee and take the handoff beyond the 3-point arc. But Iggy senses a chance to squeeze underneath Lee, in the space between Lee and Blake Griffin, and take the handoff from there. This little bit of ingenuity catches the Clips by surprise and leads to a delightful Iggy-to-Bogut connection.
Once something unexpected like this happens, a defense goes on high alert looking for it again. The Clips overprepared for the Iggy-Lee hand-off on the very next possession, allowing for Iggy to fake the same cut, only to dart back to the rim and catch an alley-oop lob from Lee. Good times.
5. The return of Channing Frye
What a delight to see one of the league's most prolific floor-stretching bigs back on the court, making a huge difference for a limited Phoenix team, after an enlarged-heart diagnosis cost him all of last season. Any team that starts Eric Bledsoe, P.J. Tucker, and a traditional center (the springy Miles Plumlee!) will need spacing, and few big men provide more than Frye — at both power forward and center — in smaller lineups.
It will take time for Frye to get the feel again, especially of all the things beyond shooting. Before his diagnosis, Frye had gotten better at mixing in some elementary off-the-dribble stuff on pick-and-rolls — similar to the Davis play highlighted above — and posting up smaller players on switches. He has already flashed those skills this season, an encouraging sign for a full on-court reemergence.
6. Oklahoma City's pseudo isolation plays
Purists hate isolations, and they are generally inefficient plays. But the league's current rules, especially the ban on hand-checking, can make one-on-one rim attacks a profitable thing if constructed the right way. The Thunder have long opened holes for Russell Westbrook by having big men fake as if they are going to set a pick for him, only to veer away just as Westbrook's man has opened up his stance — and, thus, a driving lane — in anticipation of a pick that isn't coming.
The two sets below play on the same looming threat, with Westbrook pounding the ball as if a pick were coming. But it isn't. Watch Kendrick Perkins carefully in the paint:
Instead of setting a high screen for Westbrook, Perkins plants himself in the lane and sets a rare in-the-paint back screen on the big man who might be most able to stop Westbrook's mad rush to the rim. Good stuff.
7. Kyle Singler's hair
I'm no stylist, so this is neither a "like" nor a "dislike" of Singler's follicular fashion choices. It is mostly a call for all of us to appreciate, even just for a moment, whatever the heck is going on in Detroit with Singler and Jonas Jerebko.
8. Dion Waiters's transition defense
Waiters has an intriguing skill set, but he'll never develop from "intriguing" to "reliable" until he cleans up the fundamentals of his game — shot selection, defensive positioning, and straight effort, especially in transition defense.
Watch Waiters in the right corner, at the top of the screen, as a Cleveland possession goes awry:
That's Joe Johnson leaking out in a way that somehow manages to be slow and yet way too fast for the stationary Waiters. I'm pretty sure I could have leaked out for a fast-break layup there.
9. The Monta Ellis–Dirk Nowitzki reverse pick-and-roll
Working the pick-and-roll with the greatest jump-shooting big man in world history should help any guard (note: Darren Collison is the exception), and so there is promise in the partnership between Nowitzki and the chronically inefficient Ellis. One variation we've seen before with Nowitzki and Jason Terry: a "reverse" pick-and-roll in which the smaller player sets a screen around which the big fella can dribble: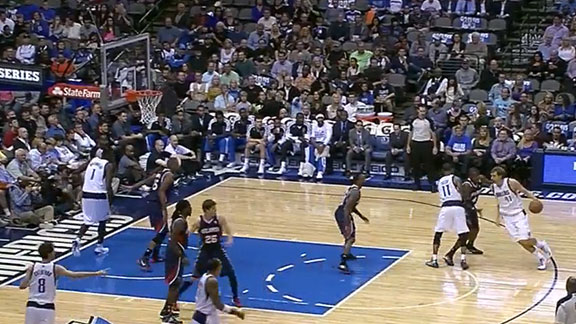 This kind of funky creativity will get a "like" in this space every time.
10. "KABOOM TOWN"
I've been critical of the Miami Heat audiovisual-yelling experience before, so you'd think I'd despise Eric Reid's pet term for 3-point land. But I actually enjoy it. Reid has long exclaimed "KABOOM!" after Miami made 3s, so it makes sense that the geographic space beyond the 3-point arc should be known as "KABOOM TOWN!" It's corny, but it's a reference atop a reference, and it works.