Last year, the Vikings bandwagon was about as desolate and lonely as a Walter White pity party. There was space to stretch out. You could steal the pillows from one of the many unoccupied bunks. I know because I was there, and all it took to gain entrance to that bandwagon was to suggest that the Vikings might approach .500. They were tied for the NFC's lowest over/under win total in Vegas, at just 6.0 wins. I suggested that 7-9 was a reasonable record for the Vikings, but if you had told me that the barren bandwagon had a final destination of the NFC playoffs, well, I would have jumped off immediately.
Fast-forward one year, of course, and the bandwagon is well occupied. The Vikings rode league MVP Adrian Peterson to a 10-6 record and a stunning playoff berth, and with a young, talented roster, there's reason to believe that they can repeat the feat. They return the league's best player, used three first-round picks in this year's draft, and still have elite players on both sides of the line. They have a young, talented coach in whom the team believes. They spent money in free agency to acquire a notable talent at their weakest position from a year ago. But it's simply going to be very difficult, if not impossible, to sustain their level of play from one year ago. And that starts, somewhat counterintuitively, with their MVP.
Take a look at this scatter chart. Plotted here are the yards-per-carry figures from each season since the big strike in 1982 for each back who ran the ball 300 times or more.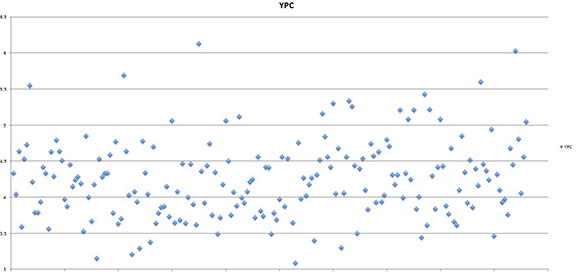 CLICK TO ENLARGE
You see that blue dot right at the 6.0 mark on the far right? That's Adrian Peterson's 2013 season. It's only the second time amid 192 300-carry seasons that a back has run the ball that frequently and broken 6 yards per carry, with Peterson coming in with a rushing average of 6.03 yards; the only other such instance came when Barry Sanders ran for 6.13 yards per attempt in his MVP-winning 1997 campaign.
The fallacy in expecting Peterson to repeat his performance is right in that chart. Barely anyone has gotten to those heights before, and when they did, they weren't able to stay at that level. Forget about 6 yards per carry. Drop the numbers down to a 5-yard rushing average and you get 15 players to have pulled off that feat on 300 carries between 1982 and 2012. Of those 15 players, just three (Barry Sanders three times and both LaDainian Tomlinson and Tiki Barber twice) were able to run for more than 5 yards per carry more than once. You'll note who isn't included on that list: Adrian Peterson. Before 2012, his career peak in a 300-carry season was 4.8 yards per attempt.
In a vacuum, these numbers don't mean anything. What they represent is the relative impact of Peterson's performance. At 6 yards per carry, Peterson isn't just the best running back in football; he's the best player in football. At 5 yards per carry, he's likely the best running back in football, but he's well removed from the elite quarterbacks and dominant pass rushers in terms of individual value. And when he dips below 5 yards per carry, he's in the mix with the league's other top rushers.
But Peterson isn't just another running back; last year, he showed that he was something beyond that. Maybe that's true. Maybe we're wrong to merely compare him to other very good running backs. Is it fair to compare him to the other backs who ran for 2,000 yards in a season? I think so. What did they do the year after their fairy-tale years?1
None of those guys came close to maintaining his record level of play. It's just too hard to do that year after year, no matter how good you are. And sure, it's a small sample, but it should be apparent by now that a performance this extraordinary just doesn't have great odds of repeating. It's the same reason why a great sprinter doesn't set the world record in the 100-yard dash every time out, or why the best golfer in the world doesn't win the tournament every time he plays. To have a sustained stretch this great, everything has to go right, and it's too hard to get that to happen over and over again.
Some people will probably call me a hater for saying all that, but it couldn't be further from the truth. I would love to see Adrian Peterson run for 2,000 yards this year. It was so much fun watching him do it last season, clowning opposing defenders and leaving the rest of the NFL in his wake. He easily deserved his MVP, and last year is probably going to be the season that solidifies his Hall of Fame case when he retires. I suspect that he will be the best running back in football this season. But that will likely mean 1,500 rushing yards, not 2,000. And if he's "merely" the best running back in football, that changes the way Minnesota's offense looks.
Obviously, it puts more pressure on starting quarterback Christian Ponder to produce, but here's a place where I'm actually more sanguine on Minnesota's chances of success than most. Ponder has gotten a bit of a bad rap over the past year, likely by virtue of racking up the wins with the league's best running game behind him. Maybe that's fair. On the other hand, it was Ponder, not Peterson, who truly impressed in Minnesota's dramatic 24-13 win over the 49ers in Week 3, a game in which Peterson ran the ball 25 times for 86 yards. The Niners dared Ponder to throw and he did, going 21-of-35 for 198 yards with two scores and no interceptions, adding a 23-yard rushing touchdown to account for all three of Minnesota's touchdowns.
The issue with Ponder is that he really dropped off in the second half, just as Peterson took over for the Vikings on offense. The numbers do bear that out:
You know who was missing for most of the second half, though? Percy Harvin. Minnesota's star wideout missed the final seven games of the season and the playoff loss to Green Bay, and without him, the Vikings were downright destitute at wide receiver. Minnesota's starting wideouts over that stretch were Jerome Simpson and Michael Jenkins. I'm not saying that Ponder doesn't have strides to make in his game, but am I really supposed to take Christian Ponder's performance seriously with those guys as his top two outside targets? Come on. Minnesota traded Harvin away this offseason and used the deal to sign Greg Jennings in free agency and draft Cordarrelle Patterson in the first round; I don't know if those guys will be great in 2013, but I suspect they will be healthier than Harvin and a damn sight better than the combination of Simpson and Jenkins, which coincidentally sounds like a law firm that might have been equally effective as NFL wide receivers.
One more stat for Ponder and then I'll move on. Third-and-long in reasonably close (two-score) situations is a good stat to see what a quarterback does when he has to throw. It's not by any means foolproof, but it gives you a good idea of what a quarterback did when he had no threat of a running play around him. Working with third-and-7 or more as the definition, Ponder faced 75 such downs last year and converted 24 of them for first downs, a 32 percent rate that was seventh-best in the league.2 Better than you thought, right?
I don't know that the improvements in the passing game will overcome the decline in the running game, but the offense shouldn't be bad in 2013. The defense might be more troublesome. They lost cornerback Antoine Winfield, who was both a talented player and a leader in the secondary, to Seattle in free agency. Minnesota drafted Xavier Rhodes in the first round, but rookie corners don't have great track records and that move will push Josh Robinson into the nickel, where he's inexperienced. Put it this way: There will be growing pains.
Minnesota also has a front four that, like most of us, continues to get older: The four starters will have an average age of 30 this season. The three most notable of the group — Jared Allen, Brian Robison, and Kevin Williams — are in the final years of their respective contracts this season. I won't pretend that I can't spin that information either way, depending on the tone of my story. If I want to suggest that the Vikings will play better, I could say that the contract issue will motivate these three to have big years and impress possible suitors heading into the offseason; since I'm suggesting that Minnesota will decline, I can imply that the lack of a long-term deal is an insult to these talented veterans, who will obviously try to conserve their aging bodies for a long-term contract and a team that respects them. I don't know that either of those scenarios is true. I just know that it's weird to have so many key players about to become free agents at one position. In any case, any slippage from Allen or Williams could have a deleterious effect on Minnesota's overall defensive effectiveness.
The Vikings defense was also very healthy last year, as its 11 starters combined to miss just 10 games all season. The only starter who missed notable time was cornerback Chris Cook, who missed six games. Minnesota has one of the league's best training staffs, under the auspices of Eric Sugarman, but getting those 11 starters to miss a mere 10 games is awful tough to pull off in consecutive years.
And, as you might suspect, the overall team indicators that I often talk about in regard to this stuff also prescribe a slip. The funny coincidence is that they're the same indicators that led me to be bullish on the Vikings this time last year. Here's how they look in those key factors as opposed to this time last year:
That last row should be the one that sticks out. Minnesota had been terrible in close games in 2011, but in 2012, it dominated them. But just as there was no reason to think that the Vikings would lose 82 percent of their close games heading into 2012, there's also no reason to think they'll win 83 percent of them heading into 2013. Over the long haul, Minnesota will win about 50 percent of those games.
I've heard arguments as to why Minnesota can sustain its performance in those close games, but they don't stick very well. One is Peterson, whose incredible running allowed Minnesota to hold on to the ball and close out close games in 2012. That was true, but in addition to the previous evidence I gave regarding Peterson's likely step backward in 2013, he hasn't been a lucky charm for Minnesota in prior close games. In games decided by one touchdown or less with Peterson in the lineup, even after that 5-1 stretch last season, Minnesota has gone 21-22.
The other is Blair Walsh, Minnesota's fine rookie kicker from a year ago. Walsh was brilliant last year, going 35-for-38 on field goal attempts, including an incredible 10-for-10 from 50-plus yards. Walsh was unquestionably an impressive kicker, but kickers are wildly inconsistent from year to year. Walsh, for one, made 91 percent of his kicks during his sophomore season at Georgia, then 87 percent during his junior year, but fell all the way to 60 percent during his senior season.3 Imagine judging a pitcher's entire seasonal performance based on what he did on 40 pitches. That's exactly what we do with kickers. Walsh will fall back to the 85 percent range (or worse) next year, and with that, he won't likely be quite as effective in game-winning situations.
The Vikings are also in one of the league's toughest divisions. The Packers and Bears were each among the league's best teams at different points last season, while the Lions have statistical indicators suggesting they will be this year's Vikings. That tough division, some changing luck, and the inevitable decline in Adrian Peterson's historic performance will likely be enough to push them to — or perhaps below — the .500 mark in 2013.